Jiehkkevárri (1834), The Lyngen Peninsula, Norway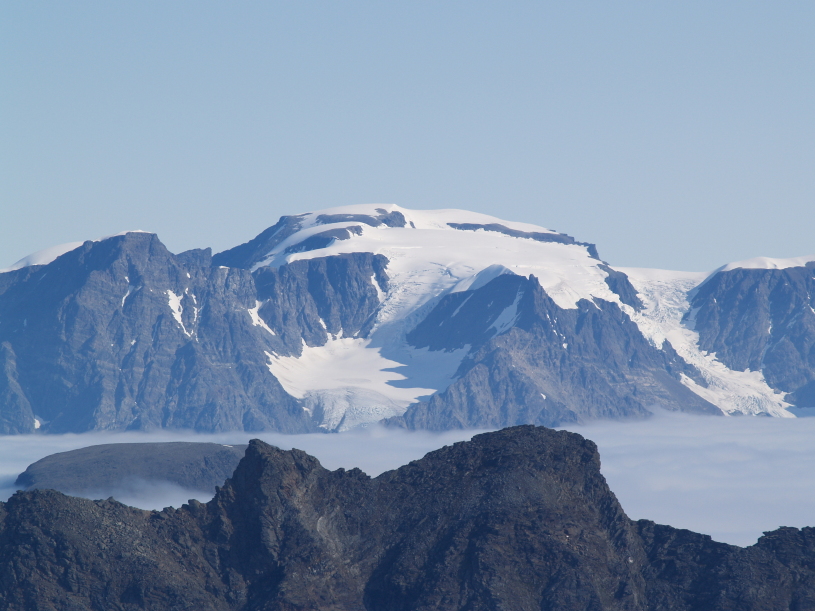 First ascent: Geoffrey Hastings (UK) and Elias Hogrenning (N), 3. July 1899.
Ski ascent with Karl-Otto Sandvik and Troms Turlag, 13. May 1978.
The Jiehkkevárri traverse over Holmbukttinden, Jiehkkevárri and Kveita with Erlend Hagan and Stefan Wiebel (DE), 23. May 2012.

More info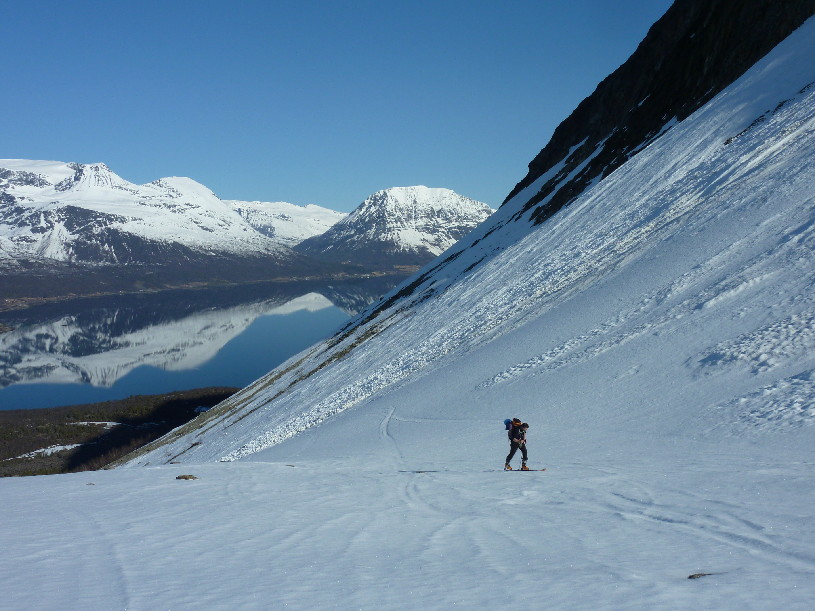 Skiing towards Holmbukttinden.
From the parking area in Holmbukta, follow the valley towards the Blåisen glacier which is visible from the road.
Keep to the left of the river Tverrelva as you ascend. Past the treeline, it is easy to follow the talus to the base of a well definded lateral moraine.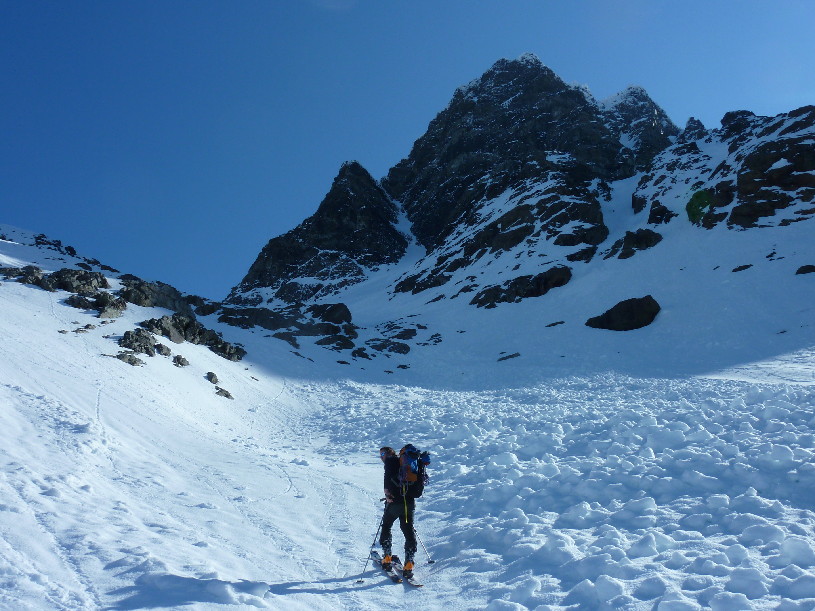 Just before reaching the moraine, turn left up a steep valley below the cliffs of Holmbukttinden.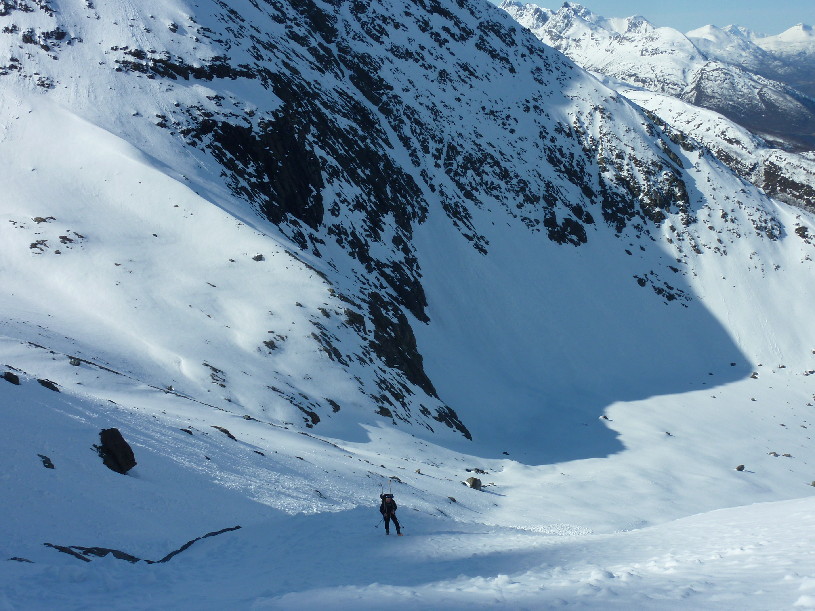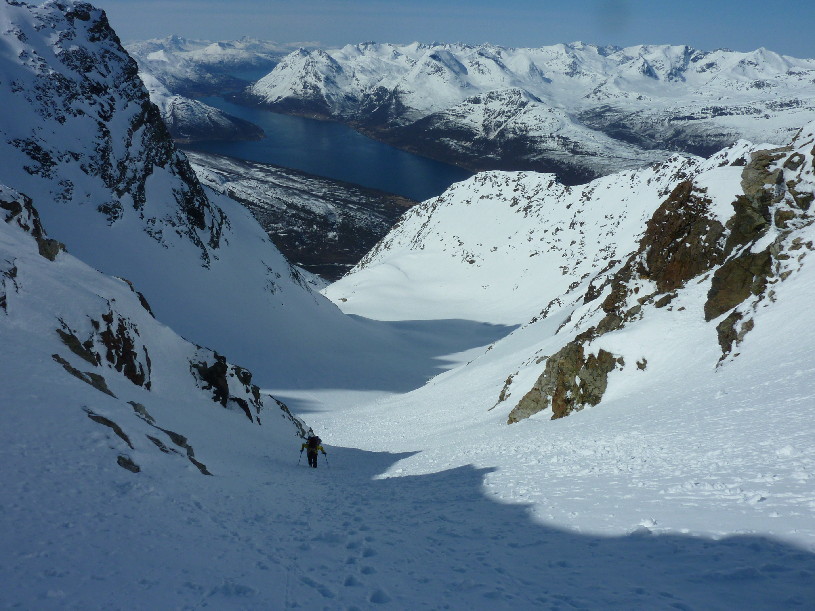 Looking down towards Sørfjorden.
Continue up the valley, which curves to the right, and head for the lowest point to reach the col.
This can be tiring with skis, but is usually doable without having to boot pack.
In late season however, many parties opt for boot packing with ice axes, and in very late season crampons.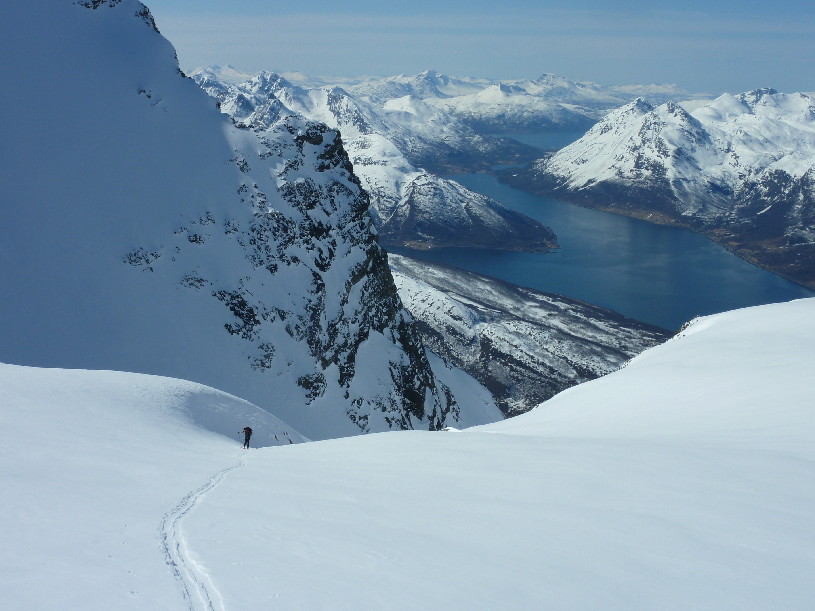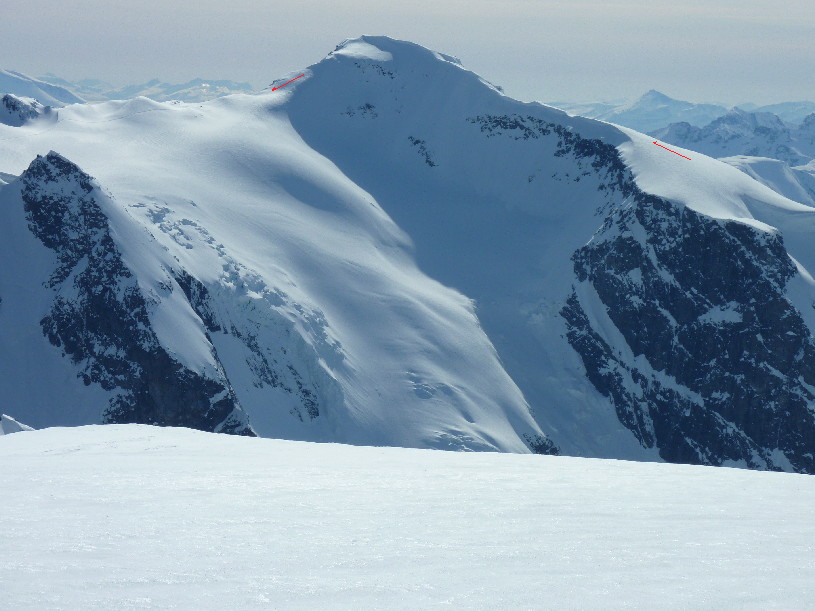 After reaching the col, follow the North ridge to the summit of Holmbukttinden.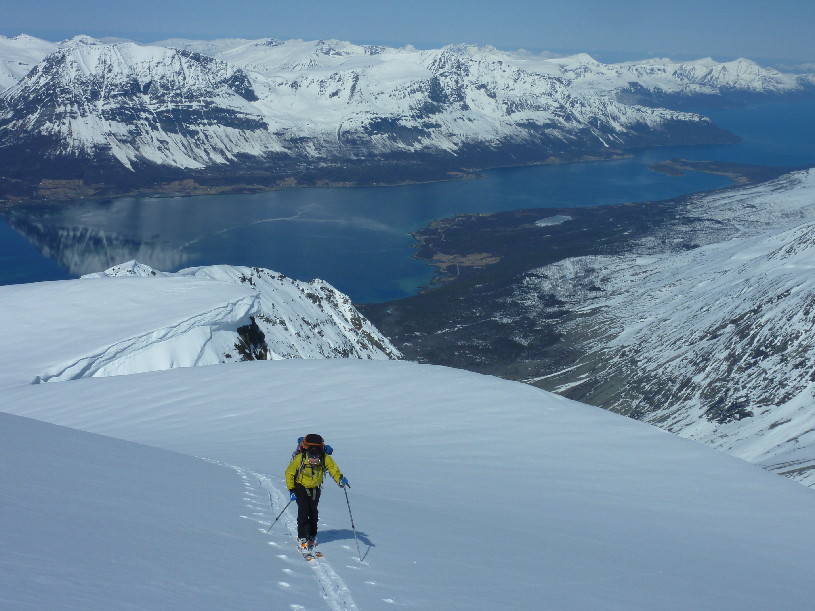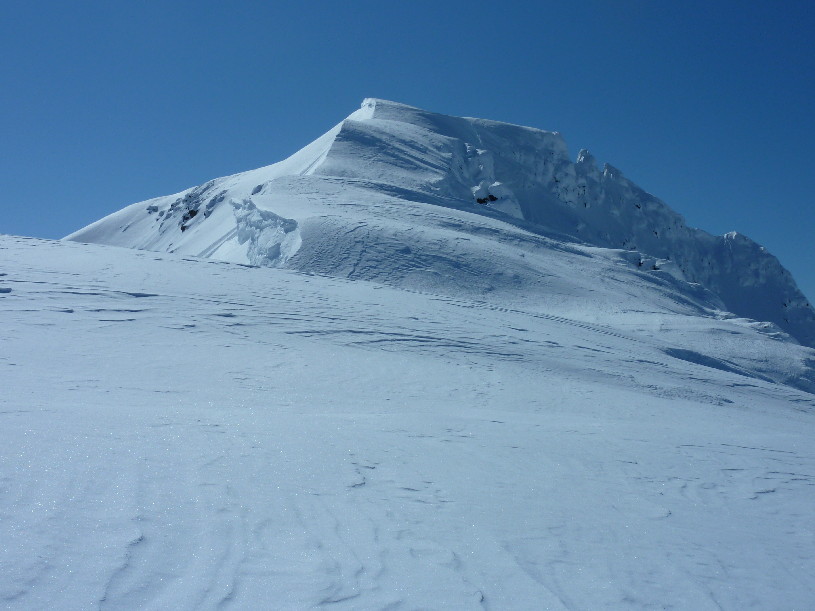 The ridge becomes more defined as the summit nears, and, depending on conditions, can be exposed before reaching the summit.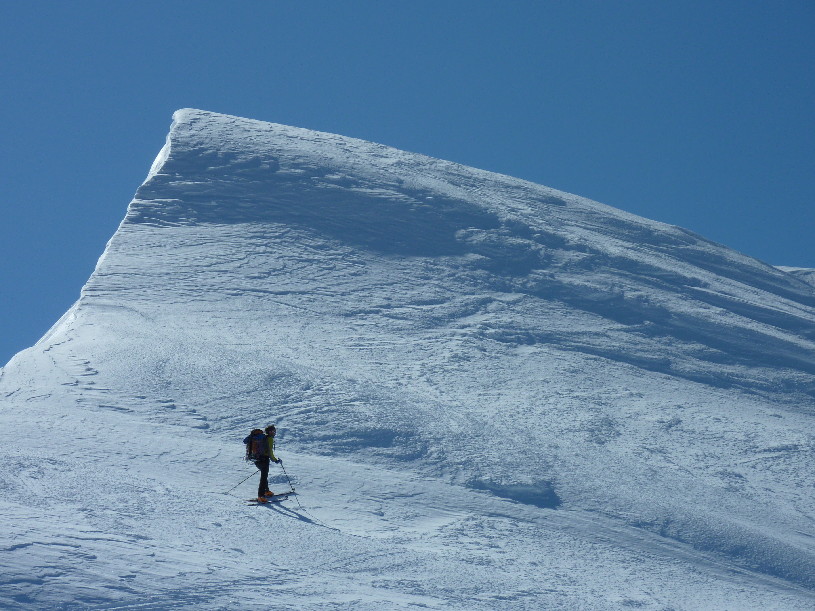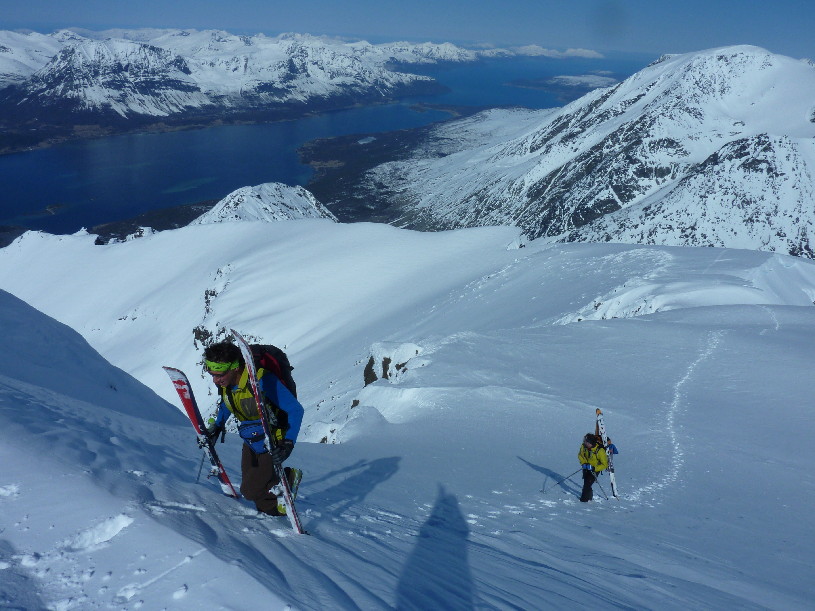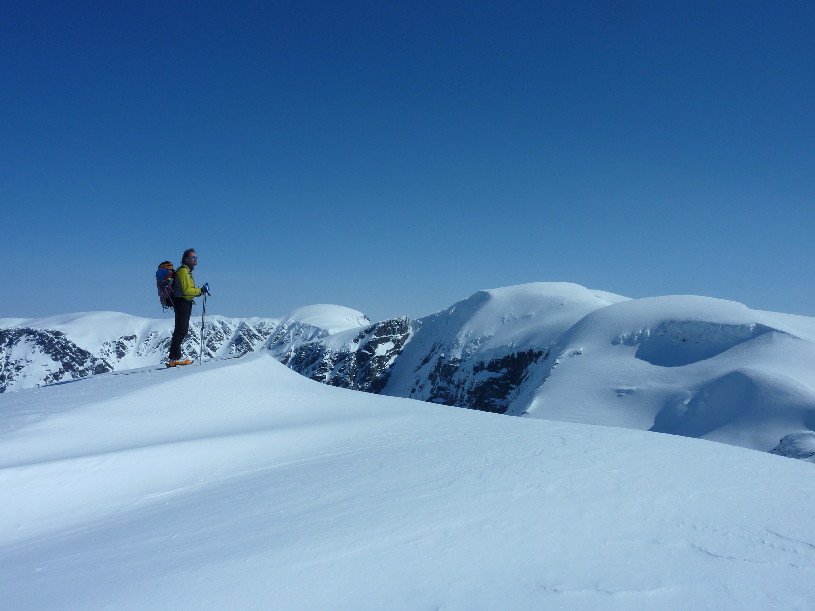 Erlend Hagan on the summit of Holmbukttinden with Kveita (left) and Jiehkkevárre (right).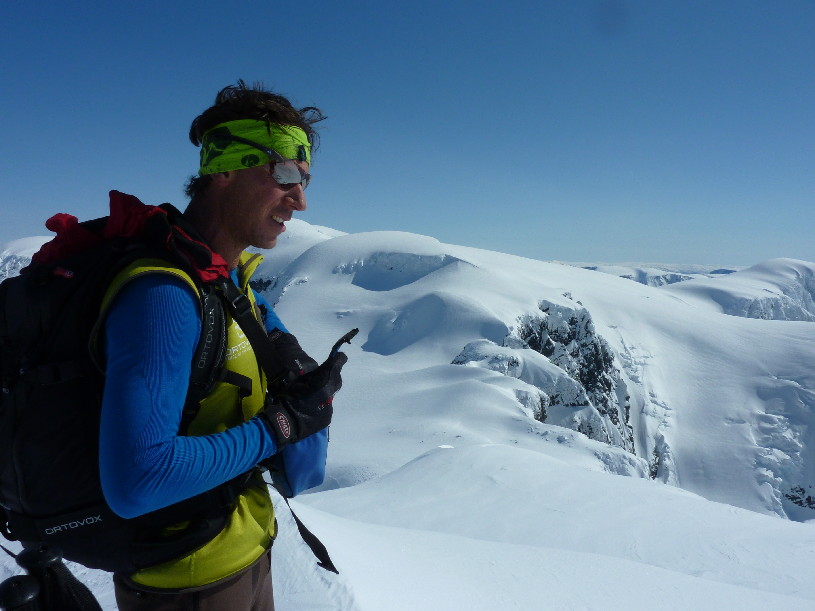 Stefan Wiebel on the summit of Holmbukttinden.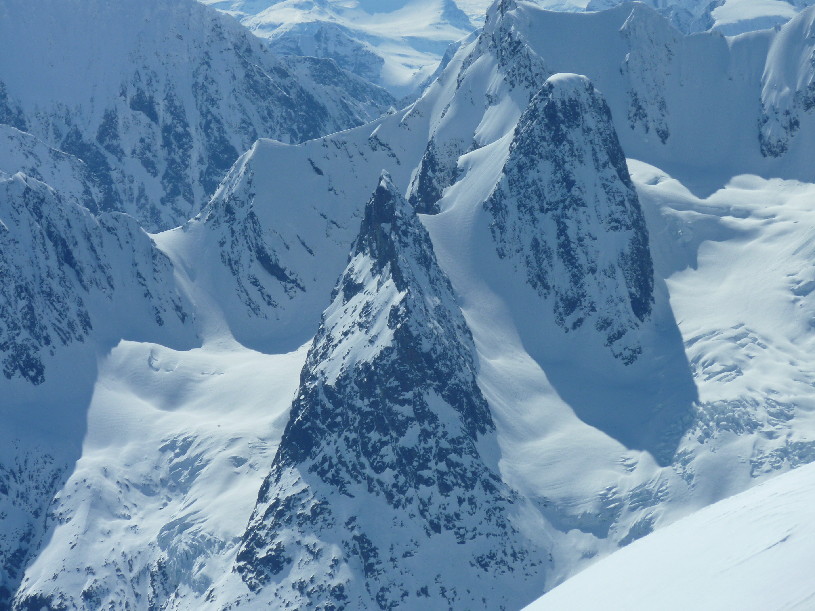 Sagbladet
(the Saw Blade) and
Goverdalstinden
from Holmbukttinden.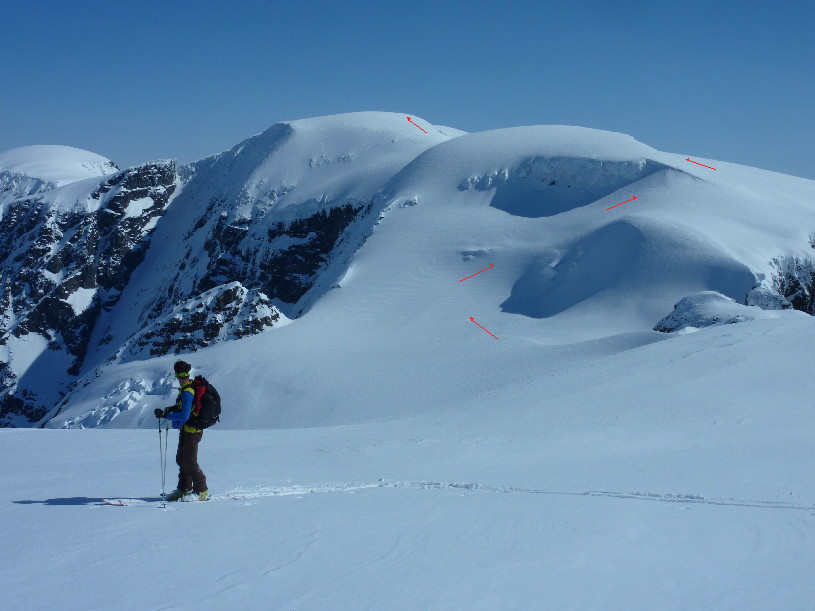 After summiting, descend the east ridge toward the col. Skirt around the edge of the glacier, keeping to the left of the ridge crest until reaching the col. From the col, a short but steep ascent gains the plateau. Gradually ascend along the plateau for 4 kilometers or so until finally reaching the final hump that is the summit of Jiehkkevárri. There are some high points that can be skirted to the right on the ascent, or they can simply be skied over without any difficulties.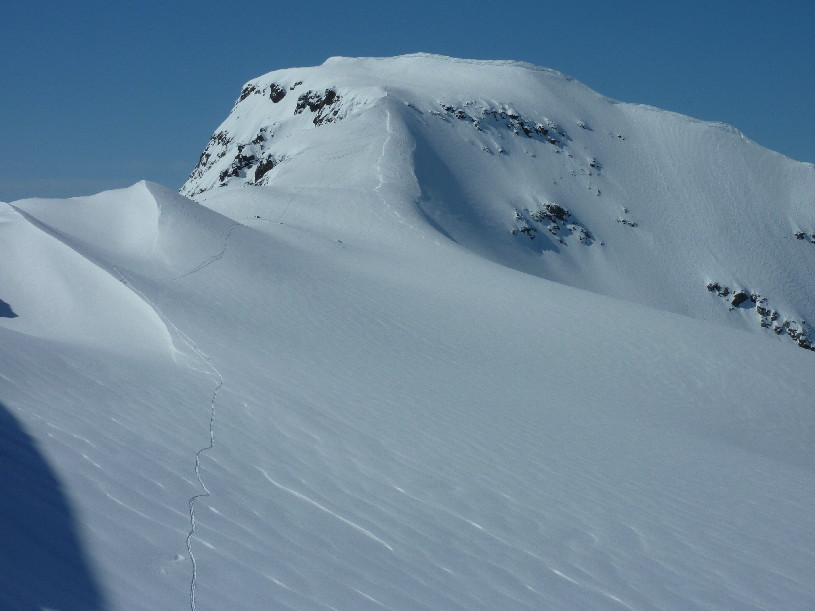 Looking back towards the East ridge of Holmbukttinden.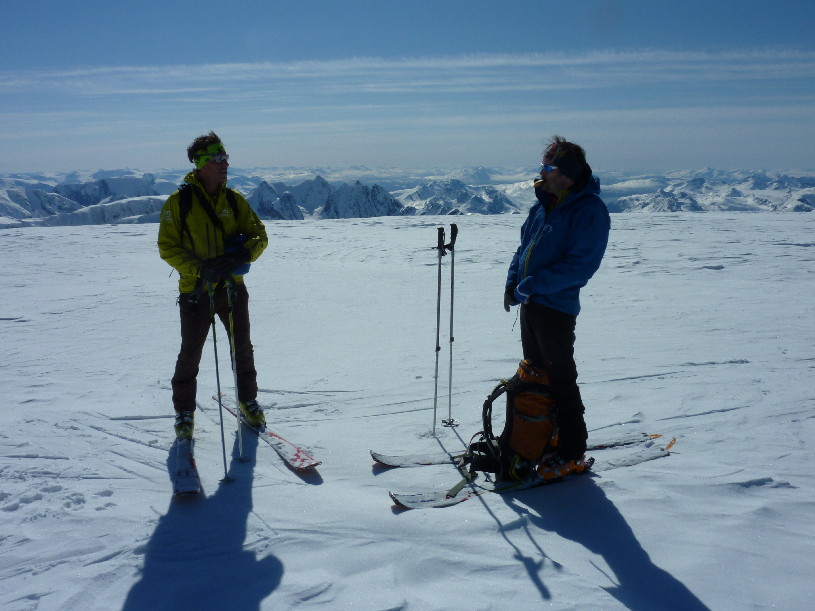 On the summit of Jiehkkevárri.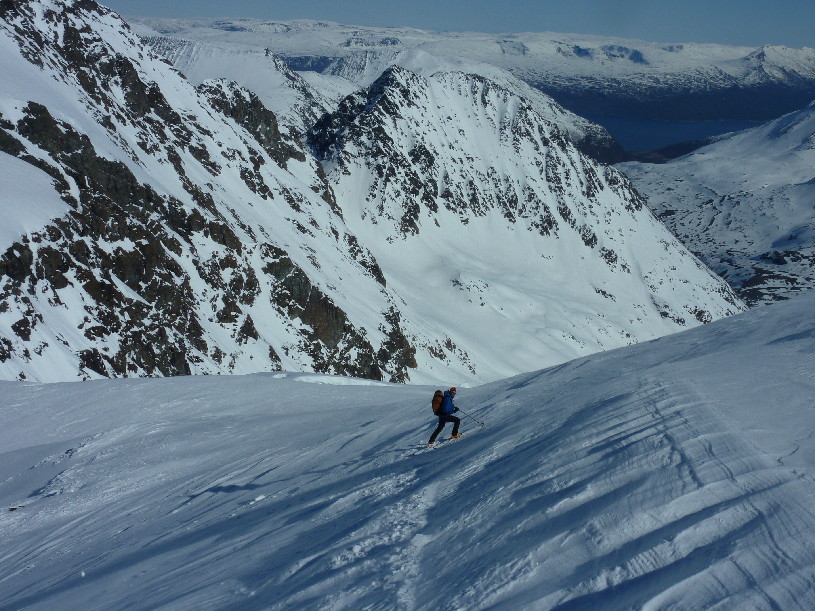 Skiing down to the col between Jiehkkevárri and Kveita.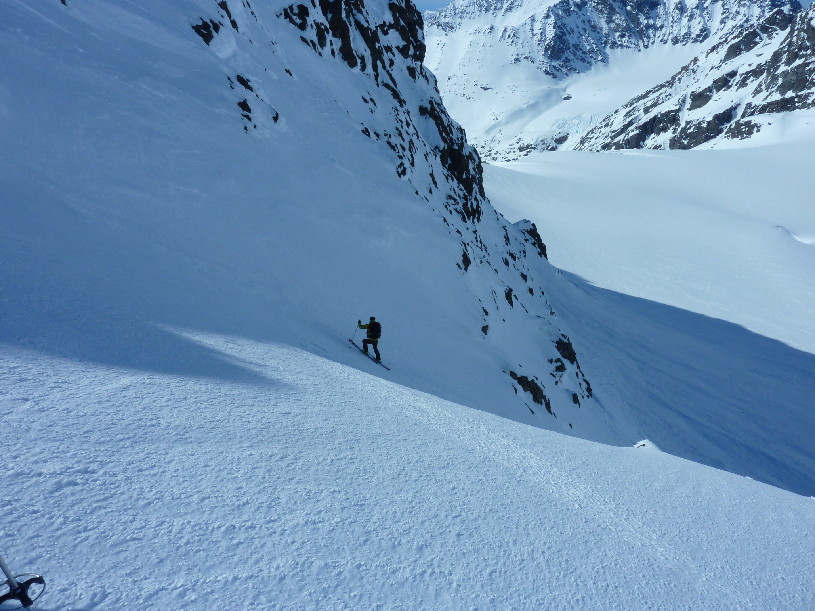 A steep icy section leading down to the col.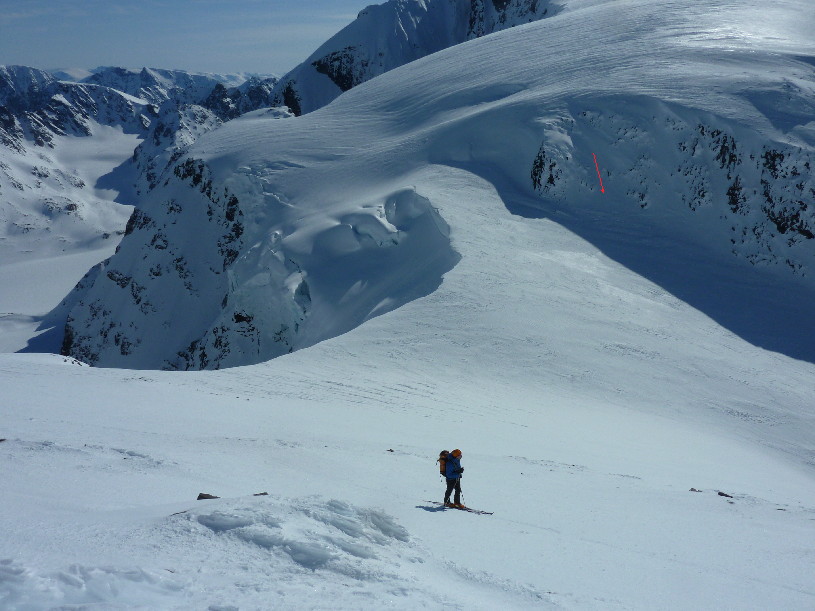 The col between Jiehkkevárri and Kveita a.k.a. Babylon's hanging garden.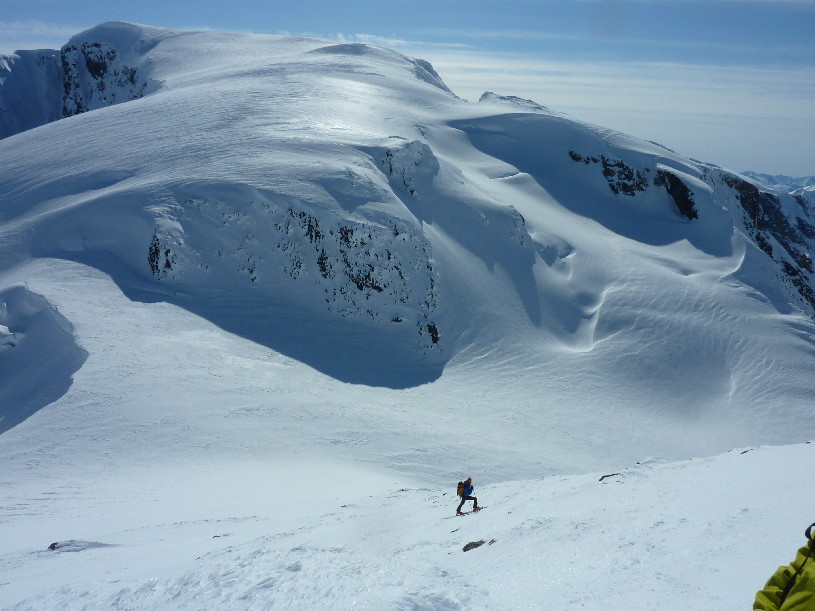 Jiehkkkevárri from the south ridge of Kveita.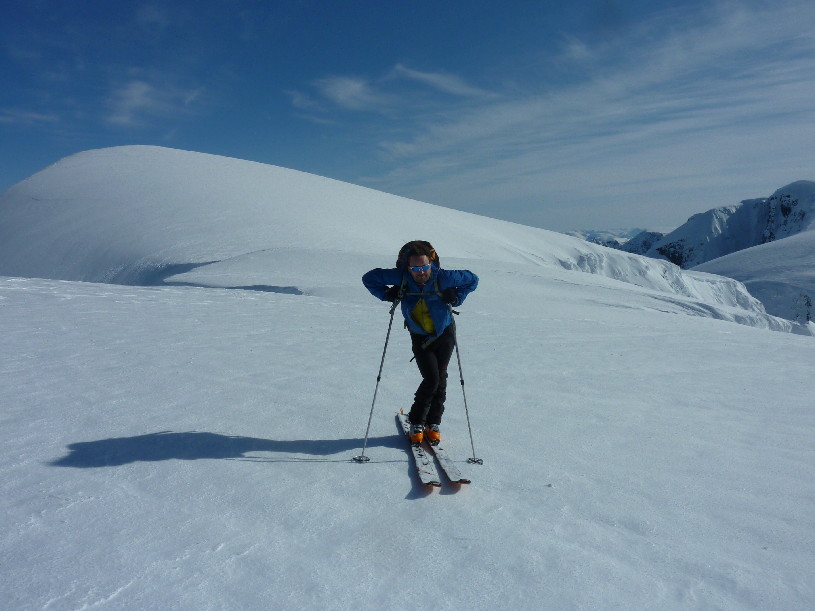 Looking back towards Kveita.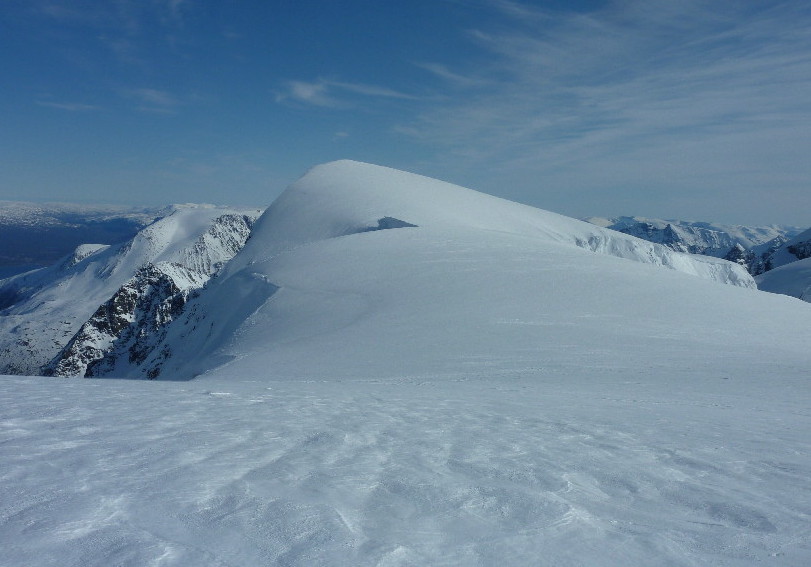 The summit of Kveita from point 1652.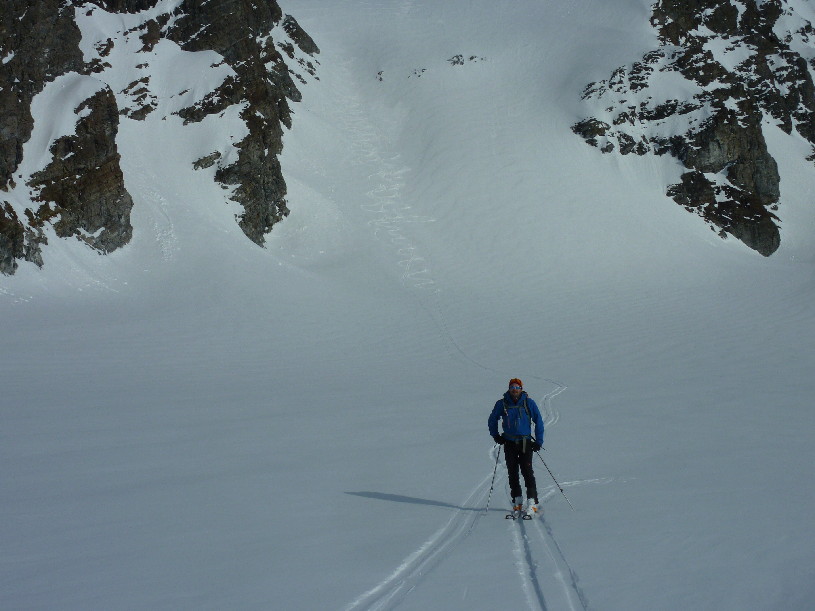 Fantastic skiing down the icefall from point 1666 to the glacier Fugldalsbreen.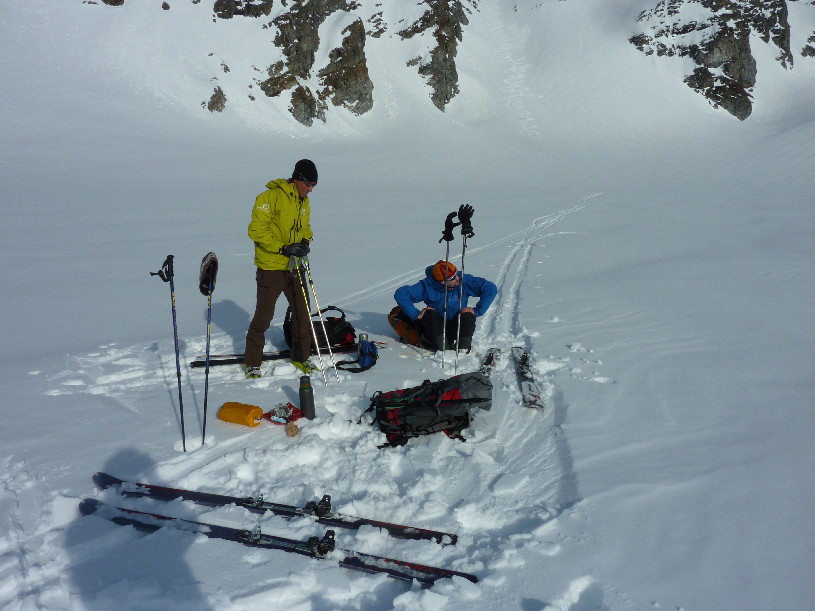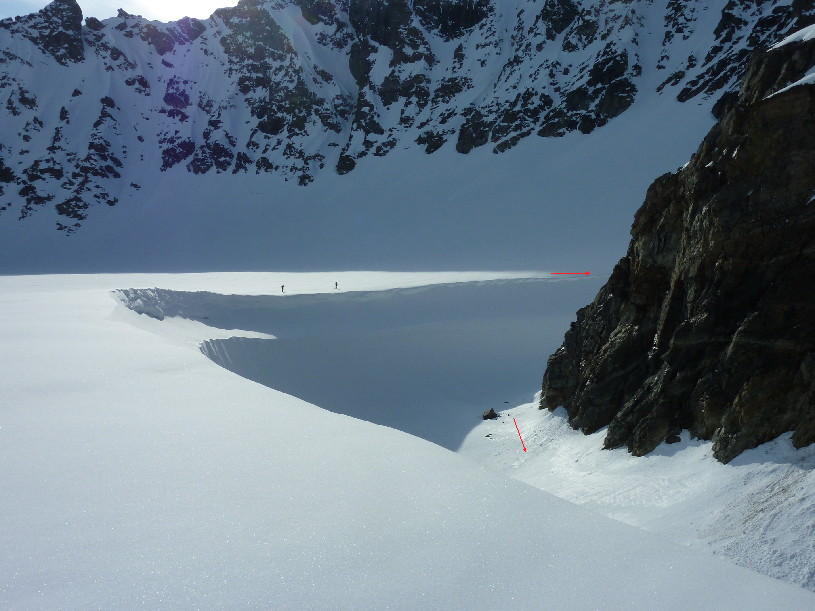 The pass Fugledalsskardet and the strange, windshaped exit to Fornesbreen.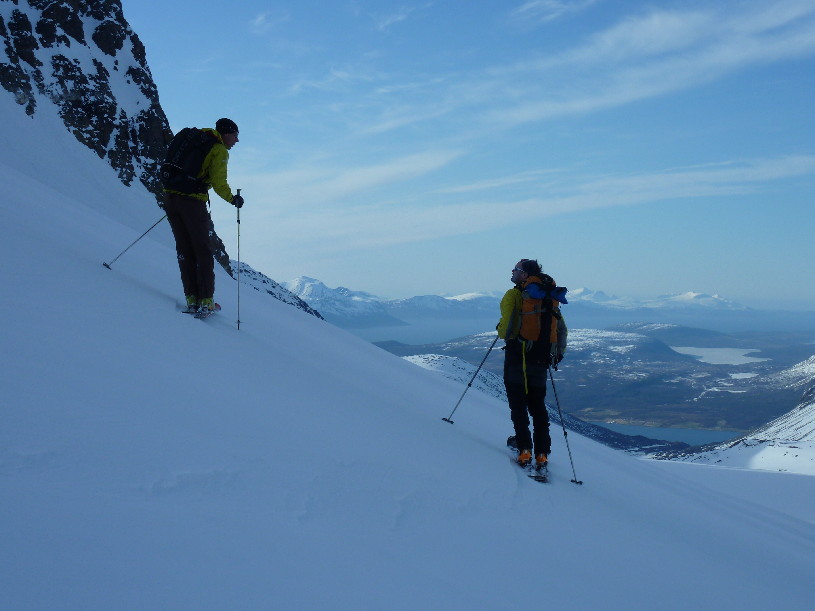 A view from the glacier Fornesbreen towards the Kjosen fjord and the still frozen lake Jægervatnet.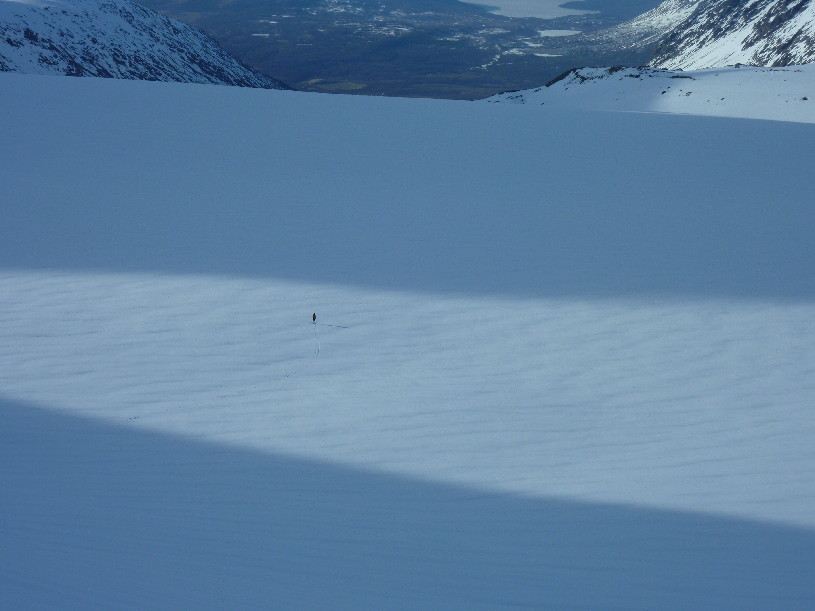 Easy skiing on Fornesbreen.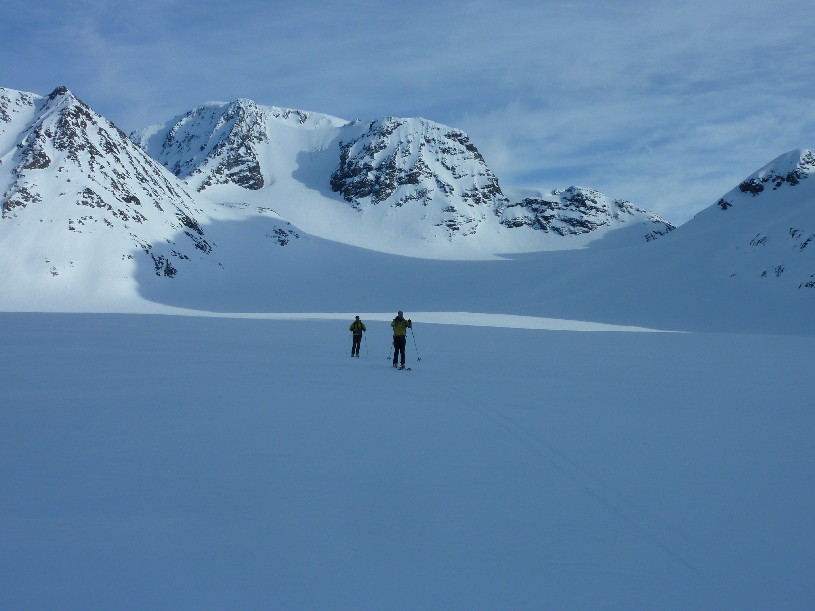 Looking back towards Fugledalsskardet (the lowest point to the right).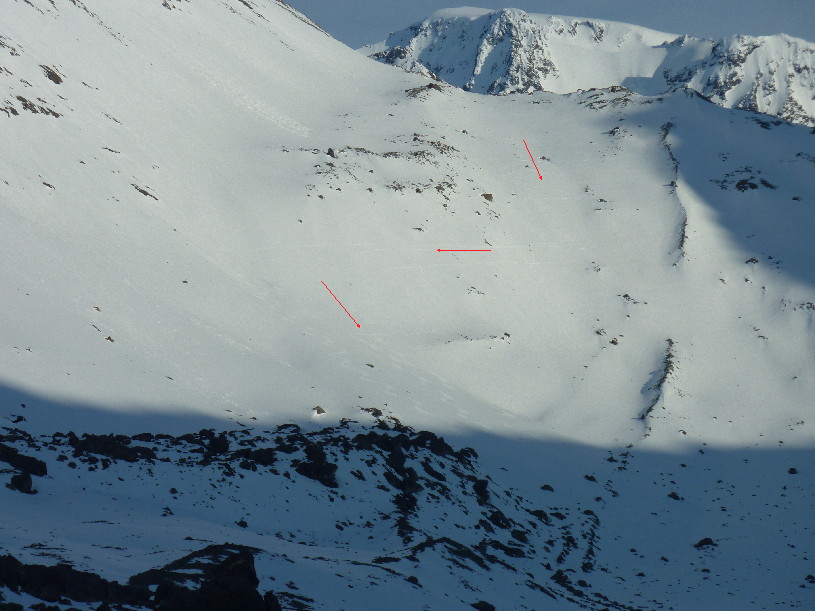 Another great skiing section leading down from Fornesbreen to Fornesdalen.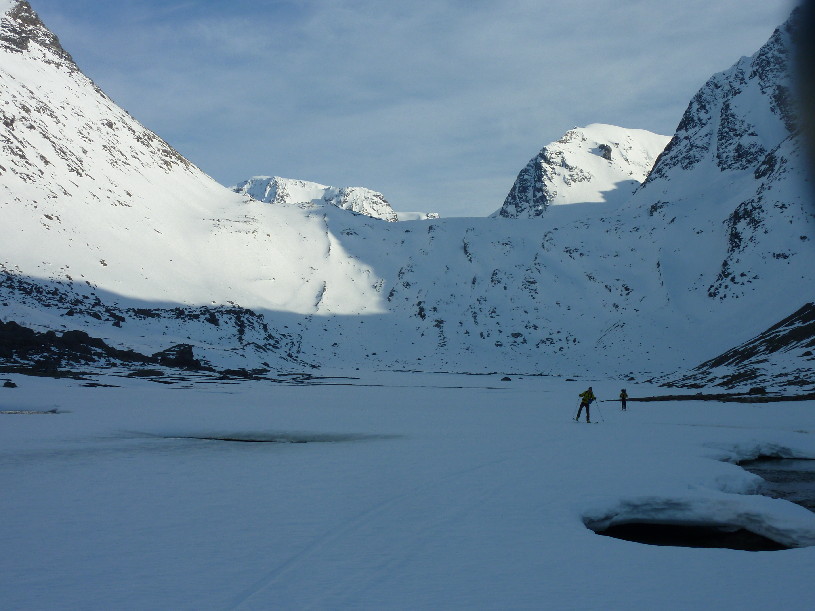 In Fornesdalen.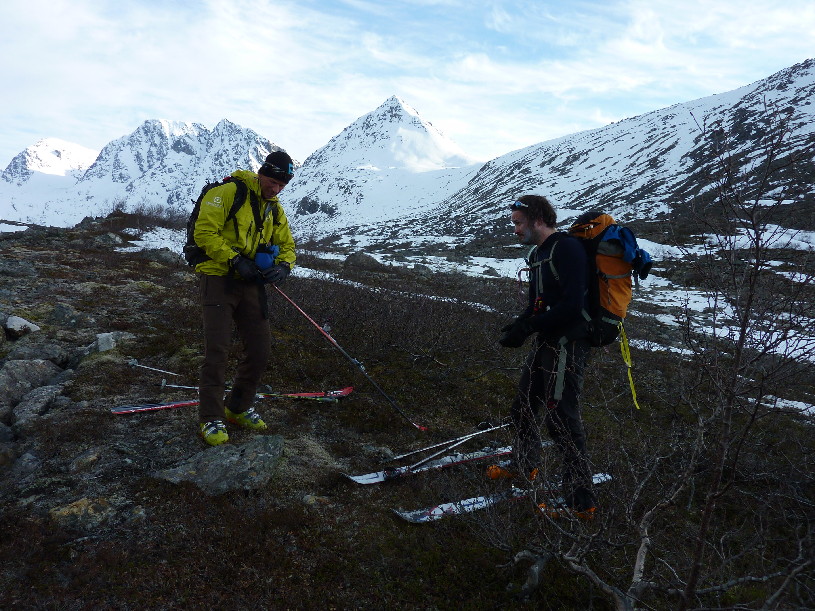 No more snow.
© Geir Jenssen 2012